03-12-2023
How about it? Are you up for it?
Book Monday 18 December from 7pm to 8.15pm for our meeting and register here: https://framaforms.org/cci-1693043647.
We will send the zoom link to people who entered their e-mail address in the form on the morning of 18 December.
You can pass on this registration link to anyone trained in listening to each other and wishing to work "beyond the boundaries of language".
Good luck to you in the meantime!
Rim, Marcus and Floriane
My name is Rim and I am a member of the Paris Cercle d'Ecoute Mutuelle. In coordination with the German CCI, we would like to invite you to a meeting beyond the borders of language.
We are sending you this email because you are one of the 44 people present at the CCI who speak several languages. In total, 18 languages were represented at the CCI this year. This is a precious thing for an international collective, and we want to emphasise it even more.
We also believe it is necessary to create a more inclusive IAB for people whose first language is not English. Let's experience linguistic diversity together, as part of our commitment to listening to each other! To this end, we invite you to a CCI egalitarian practice meeting (co-counselling) per zoom. Egalolingualism means that no speaker is sidelined because of their lack of command of the language.
This is our goal, and we want to work with you to achieve it. If you have any ideas or suggestions, we'd love to hear from you.
The meeting will consist of an opening circle, reflections, mini-sessions and a closing circle.
We will work in multilingual groups, focusing on emotions rather than content, working non-verbally and using the signs of the invitations that you will find in the attached document. No need to revise, but take a look at it if you wish.
It will be facilitated by Markus and Floriane.
30-11-2023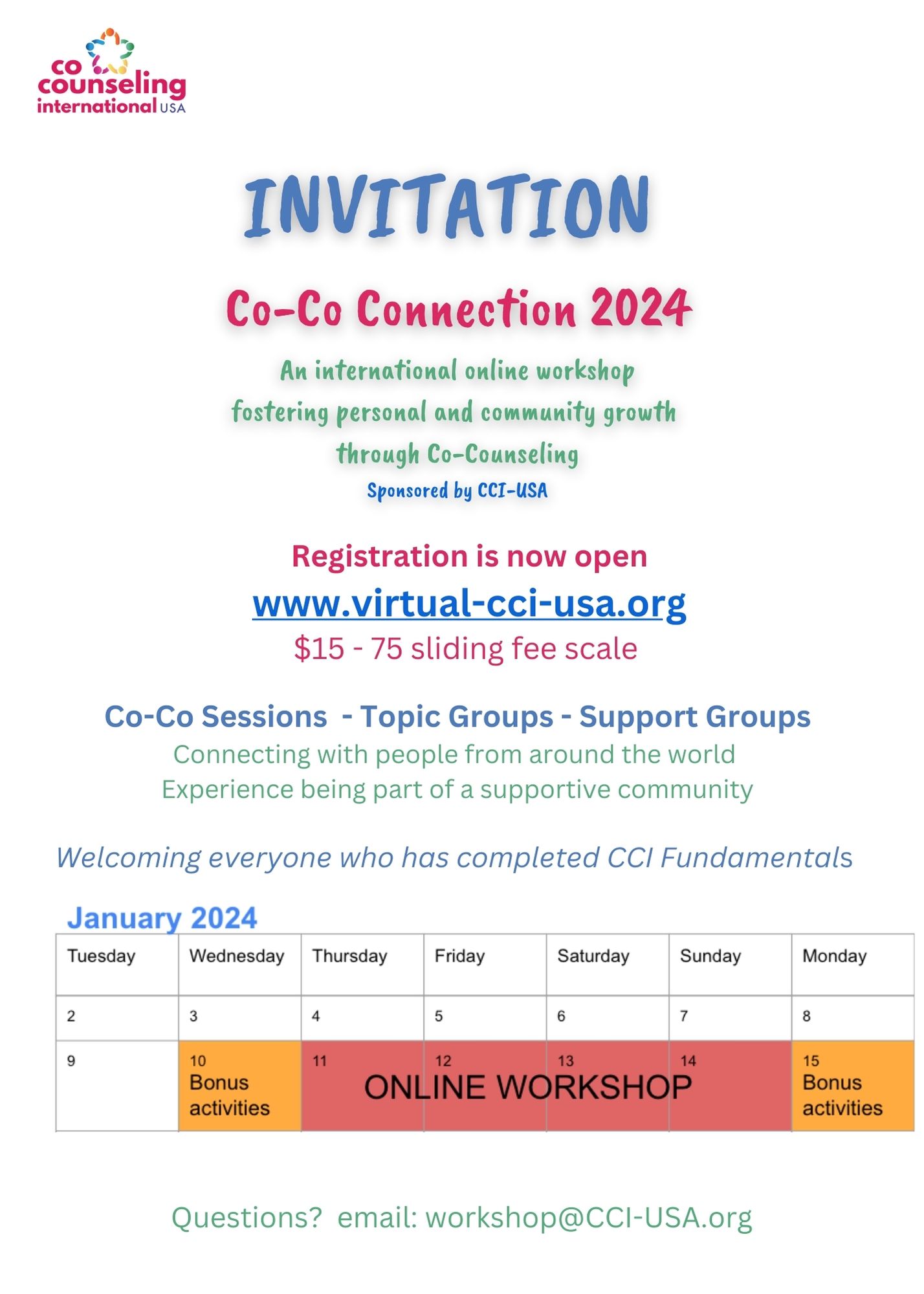 28-08-2023
European CCI in Germany
From saturday 13 july to Friday 19 july 2024
Hi lovely co-counsellers,
All CCI co-counsellors are warmly invited to the 2024 European summer event in Germany.
About the event

The venue will be in Papenburg, Germany.
Information can be found in their flyer in German or English.

Further information can be found here or

here. Their website announced in the flyer is still under construction.



Registration
Registration for this CCI will be opened on Friday, 29 September 2023 at 14.00 German time. Be quick if you need a single room.
The link will be: https://buytickets.at/cci2024germany/937340 (You can't see the website before that date.)
08-12-2022
Mike Root, from the USA, informed us about the following upcomming international event:
CCI  USA Annual Workshop, Tuesday, May 9 - Sunday, May 14, 2023
You are invited to join us for
CCI-USA's Annual International Workshop
Date: Tues., May 9 to Sun., May 14  2023
Location: Wisdom House Retreat Center in Litchfield, Connecticut (www.wisdomhouse.org)
Theme: Lights, Camera, Life Action!
Please consider joining us! Bursary help is available if money is a concern -- we can also help with local housing and transportation needs before and after the workshop. Two important updates about the workshop:
We will NO longer require a PCR lab test prior to attendance at the workshop. We still plan to do daily antigen testing (self-administered nasal swabs) prior to and at the workshop. We did that last year, and it went very smoothly -- organizers supplied the tests, and participants simply added that to their morning wake-up routine. For many of us, doing what we can to reduce the risk of transmitting or catching Covid makes deciding to attend CCI much easier -- especially because many of us are looking forward to real hugs, and have no interest in social distancing!
We'll also be offering Fundamentals Part 1 at the workshop for newcomers to co-counseling! Fundamentals participants will share circles, meals, and some other activities with workshop participants, while learning and practicing Fundamentals in morning and afternoon sessions. Fundamentals spaces are limited -- anyone interested should contact Judy Hartling (judyahartling@gmail.com or 413-454-1585) as soon as possible.
More information about the workshop and Fundamentals class can be downloaded from below. If you have any questions about the workshop, please let Mike Root or Kathryn Bass know.
Mike Root - CCI-USA Communication Coordinator, rootm0525@gmail.com
Kathryn Bass - CCI-USA Communication Coordinator, kataroobass@gmail.com
If you're ready to register, you can use this Google form to register online, or you can mail in the paper form attached.
(Anyone interested in Fundamentals should contact Judy Hartling before registering -- judyahartling@gmail.com.)
We hope to see you there!
Mike & Kathryn
Information details, for download
13-10-2022
2023 International Virtual Workshop
Connection and support in a virtual world
 January 11-15, 2023
Location: Online
In January 2023, our co-counsel friends from the USA are hosting an international virtual CCI workshop. They did it before in 2021, and about 100 people participated from across the US and Europe with great enthusiasm throughout. So, they are doing this again.
Come and be part of it!
Costs, details and registration:

$70 US East coast & central / $45 US west coast and mountain
Free for international participants, donations welcome
The pricing scale reflects that not all program times will be convenient in all timezones
Go to the https://www.virtual-cci-usa.org/ website for the latest updates.
Download this pdf-document and registration is now open via this link.
On behalf of the org team of Wendy Bruce, Jen Hartt, Michael Root, Scott Wakefield, and Victor Williams we would like to invite you to join!
What is a CCI Workshop?
A CCI Workshop is a multi-day space where the CCI Co-Counseling community comes to connect, celebrate each other, and grow. There will be circles with the entire community from around the world. There will be opportunities to do paired sessions.
There will be 5 to 6 person support groups that meet daily to support each other through Co-Counseling.
There will also be offerings throughout each day called topic groups, which are 90ish minute sessions that may or may not involve Co-Counseling but generally involve personal growth, mind, body, spirit, or community. Some topic groups will be planned in, and others can be offered as the workshop goes along. This is a peer community, and everyone is encouraged to contribute. This results in a co-created organic workshop that evolves as the days go by.
21-08-2022
European CCI in England
From Saturday 29th July to Friday 4th August 2023
All CCI co-counsellors are warmly invited to the 2023 European summer event. It is in the south of England, at Avon Tyrrell, a beautiful historic house on the edge of the New Forest National Park, and 7 miles from the sandy beaches of the south coast. Accommodation is available in shared rooms, with a few twins and singles, or camping in the beautiful surrounding woodland. The event is fully catered, with options for eat-anything, vegetarian and vegan diets – if you have more specific dietary needs, please detail your requirements in your booking and we (and the venue) will do what we can.
The theme of the 2023 event is RENEWAL
Voor meer info en inschrijving, zie de UK site CCI-2023.
07-03-2022
Onderstaande mail kwam binnen en is voor alle CCN-(aspirant)leden:
'To our international friends: you are invited to join us May 4-8 for CCI-USA's Annual Workshop -- "Open to Change... Open for Growth!" It will be IN PERSON, in Connecticut, with Covid precautions in place. Nation-wide and international members of CCI are especially welcome.'
Voor meer informatie, neem contact op met Judy, judyahartling@gmail.com
30-11-2021
Teachers workshop
Prior to the CCI, a teachers workshop will be organised at the same venue.
Click here for further information and registration.
15-02-2021
I wanted to invite you all to join our virtual CCI USA workshop this year.  Here are the details:
When? Apr. 14-18, 2021
Where? Online across all timezones
What? Opening circles/support groups/topic groups and a virtual sofa to hang out and chat
Go to cciusa2021.org to register!
Come join us from where you are, when you can!  Go to cciusa2021.org for details and our timezone friendly schedule.
Note: The Workshop Circles and the majority of Topic Groups will be facilitated in English -- translation services will not be available.  Of course you can always do your own client work in any language you choose. If you want to offer a Topic Group or Support Group in another language, or to arrange for translation services for your own offering, you are welcome to do so.
Best wishes,
Mike Root
19-01-2021
To Our International Friends
As you may know, Bob Sawyer died unexpectedly of a heart attack on December 16, 2020. Bob was a long-time co-counselor, an active volunteer and leader in CCI-USA,and an enthusiastic attendee at co-counseling workshops around the world. Many of you knew Bob, and know his wife, Dency Sargent (one of the founders of CCI), and his stepdaughter Cat (Cathy) Sargent.
On behalf of Dency and Cathy, we invite you to join members of the worldwide CCI community (and some of Bob's friends and family) as we celebrate Bob's life and mark his passing in an on-line gathering. It will be held via Zoom on Saturday, January 30, 2021 at:
2:00 p.m East Coast U.S. time (EST)
7:00 p.m. UK time
8:00 p.m. European time
9:00 p.m. Israeli time
and 8:00 a.m. on Sunday, Jan. 31 New Zealand time
We expect the gathering to run 90-120 minutes. Please log on a few minutes early if you can, although you are welcome to join late or leave early if needed. Part of the gathering will be in small groups, so everyone will have a chance to hear and share remembrances of Bob. There will also be an opportunity for a few people to share brief remembrances of Bob in the large group -- if you would like to be one of those people, please let Judy Hartling know as soon as possible, as space for this will be limited. (Email Judy at judyahartling@gmail.com.)
Here is the link to join the gathering:
https://us02web.zoom.us/j/88964457340?pwd=Tkk0TE5LVjVVdDlDV0kwOHlVQk9Vdz09
We hope you can join us on the 30th (31st if you're in New Zealand) to remember and celebrate Bob. If you are not familiar with Zoom, please contact Judy BEFORE the 30th -- she'll be happy to guide you through how to download and get started on Zoom. If you have any other questions, please email Michael or Judy.
With warm wishes and a full heart --
Michael Chell & Judy Hartling
michaelchell@hotmail.com
judyahartling@gmail.com
Note:  If you would like to contact Dency or Cat directly, you can reach them at:
dencysargent@aol.com, 503 Jerusalem Hill Rd., Windham, CT 06280
catsarge@juno.com, 121 Island Hill Rd., Northampton, MA 01060
If needed, here is the full invite for the Zoom gathering.  We've also attached one of our favorite photos of Bob.
Topic: Bob Sawyer Memorial Celebration
Time: Jan 30, 2021 02:00 PM U.S. Eastern Time (7:00 PM UK time, 8:00 PM European time, 9:00 PM Israeli time, and 8:00 AM on Sunday, Jan. 31 New Zealand time)
Join Zoom Meeting
https://us02web.zoom.us/j/88964457340?pwd=Tkk0TE5LVjVVdDlDV0kwOHlVQk9Vdz09
Meeting ID: 889 6445 7340
Passcode: 953740
Dial by your location
Find your local number: https://us02web.zoom.us/u/kcUbhmYCMA