Sunday the 30th of July 3 PM through Saturday the 5th of August 2017 12:00 noon.

Follow your own course…
The Netherlands have an issue with water. Whether we like it or not. Many of us love to recreate on or in the water. Sailing is a popular activity and that's why the Dutch CCI chose the theme
'Follow your own course'.
Imagine a sailingboot:
From which side is the wind coming?
Is it headwind?
Is it tailwind?
Will I need to tack?
Or avoid something?
It is up to you to find out, what kind of inspiration you take away on your path after this week.
This is your opportunity to further develop your skills in a variety of workshops in an international setting with enthusiastic cocounsellors from many countries. Each of them has special skills and qualities and these guarantee the quality of the workshops on offer. You will be able to enjoy this opportunity to share your qualities with other participants.
A full week of being part of one, large family with a lot of depth, relaxation, creativity and opportunities for personal growth through sessions, workshops and being together.
Nieuw Allardsoog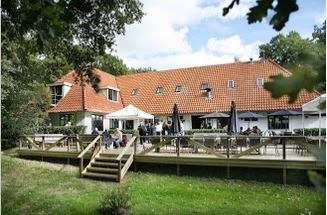 The Co-Counseling International Summer Workshop will take place in 'Nieuw Allardsoog', Bakkeveen (Province of Friesland). The centre is owned by the Frisian nature conservation organization 'It Fryske Gea' (in Frisian language).
This beautiful conference-centre has its buildings, spread out in a peaceful park landscape; it is surrounded by beautiful nature and heather fields. The paths of the estate runs without interruption into ancient moorland. Here you can spend hours wandering around in peace.
The Programme
During the 7 days of the CCI the programme will develop organically, where participants are invited to offer workshops of their own choice. You can enjoy a variety of informative as well as creative workshops, opportunities for sessions, and recreational possibilities and tours in the area.
Participants
The CCI is open to everybody who completed a 40-hour fundamental CCI Co-Counseling Course. The language is mainly English; there are many participants who are willing to translate.
Accommodation
The conference centre offers 35 beautiful two-person rooms each with their own shower and toilet and a strictly limited number of camping places on the grounds. There is a possibility for more campers on an official campsite nearby at normal camping prices.
Nieuw Allardsoog:
Jarig van der Wielenwei 6 – 9243 SH Bakkeveen
route description: click here
(197 km from Schiphol Airport)
The nearest train station is ASSEN (We are working on transport from Assen train station to the venue.)
Bed linen is included; towels available for € 4.75 p.p.
Diets
Special diet for health reasons? Please mail Marjan before July 20 2017.
Pre-CCI hosting
If you would like to stay over with Dutch Cocounsellors preceding the CCI, please let us know. The organisers will mediate to find a place.
Teachers workshop
The teachers workshop will be held before the CCI: Friday afternoon July 28 – Sunday morning July 30. It will be hosted by Joke Stassen and Niek Sickenga in 'De Beukehof', Donkerbroek (15 km from CCI).
Costs
For Early Birds the fee is € 500,- p.p.
Booked after June 1 the fee will be € 530,- p.p.
Campers receive a € 120,- discount.
The fee for the teacher's workshop is € 55,- p.p.
Bursaries, for those who really need it, can be requested through Emmy Clausen.
By paying a deposit of € 250,- p.p. before June 2017 your booking becomes definitive.
The full balance is due before July 20 2017.
Payments can be made to:
Account CCN-CCI at Uithoorn
IBAN: NL49INGB0003534206
BIC: INGBNL2A
Prinses Margrietlaan 65,
Postal Code 1421 XG Uithoorn, The Netherlands
Questions?
About the venue: Hans
About financial matters: Emmy
Any other issues:
Hanneke